In two previous posts I had a look at the rankings at differents splits and the top overtakers. In this brief post I will dig deeper into who were the best of their starting groups.
First a graphs showing the winners of each starting group!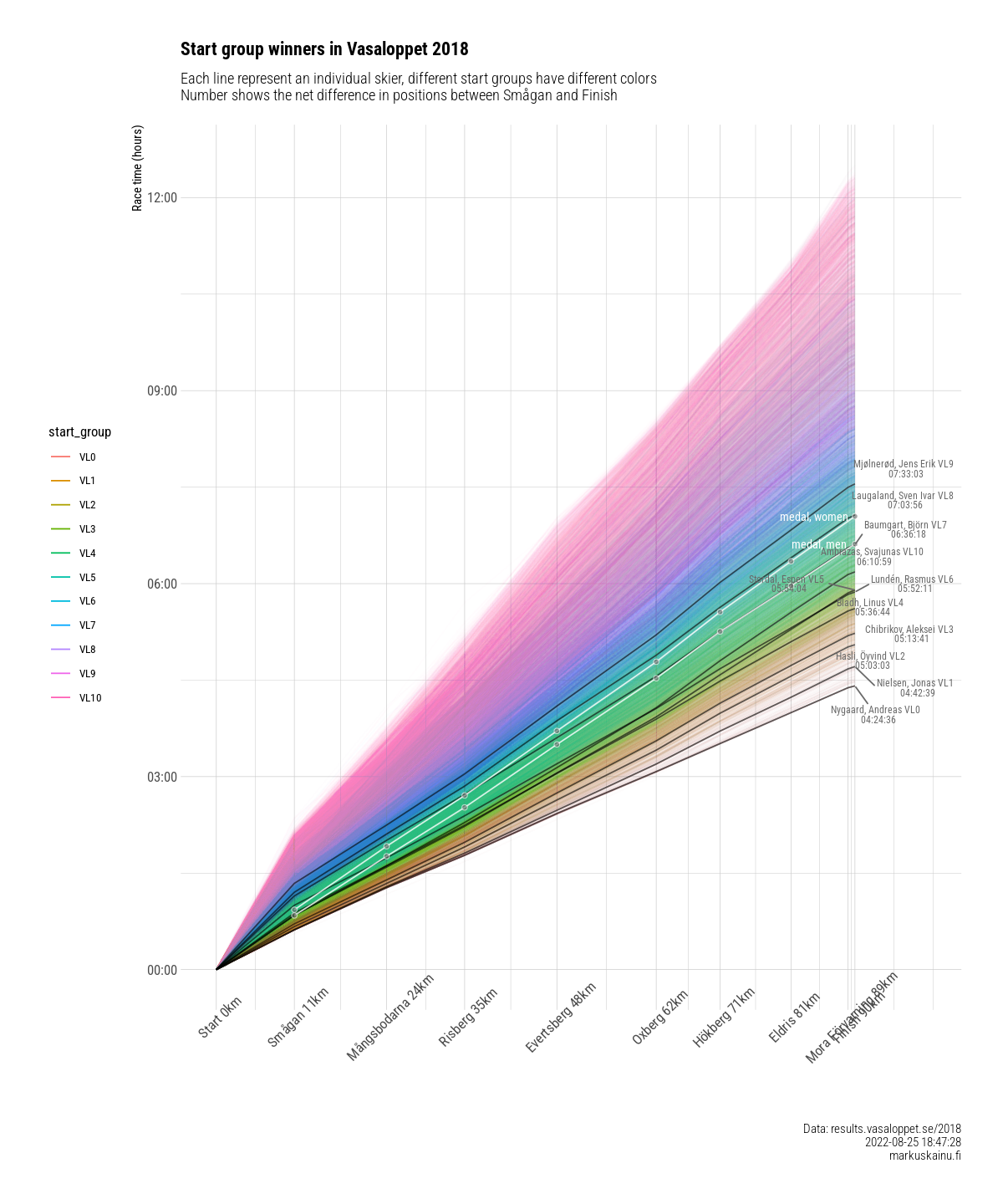 Below we have a table for each eleven start groups with top 20 skiers from each. For the complete data, probably including yourself, download an Excel file from here with a tab per startgroup!
Start group VL0
| Start group position | nr | name | nat | class | Race time | Race position |
| --- | --- | --- | --- | --- | --- | --- |
| 1 | 2 | Nygaard, Andreas | NOR | H21 | 04:24:36 | 1 |
| 2 | 13 | Niemi Impola, Bob | SWE | H21 | 04:24:39 | 2 |
| 3 | 3 | Hoelgaard, Stian | NOR | H21 | 04:24:40 | 3 |
| 4 | 19 | Brink, Jörgen | SWE | H40 | 04:24:41 | 4 |
| 5 | 31 | Pettersen, Öystein | NOR | H35 | 04:24:41 | 5 |
| 6 | 62 | Vesterheim, Magnus | NOR | H21 | 04:24:41 | 6 |
| 7 | 7 | Aukland, Anders | NOR | H45 | 04:24:42 | 8 |
| 8 | 5 | Gjerdalen, Tord Asle | NOR | H35 | 04:24:42 | 9 |
| 9 | 23 | Rezac, Stanislav | CZE | H45 | 04:24:42 | 7 |
| 10 | 24 | Gifstad, Thomas | NOR | H21 | 04:24:42 | 10 |
| 11 | 10 | Kardin, Oskar | SWE | H21 | 04:24:43 | 11 |
| 12 | 34 | Persson, Oscar | SWE | H21 | 04:24:44 | 12 |
| 13 | 14 | Moen Fjeld, Öyvind | NOR | H21 | 04:24:44 | 13 |
| 14 | 228 | Luusua, Ari | FIN | H21 | 04:24:44 | 14 |
| 15 | 25 | Pedersen, Morten Eide | NOR | H21 | 04:24:44 | 15 |
| 16 | 35 | Thyli, Vetle | NOR | H21 | 04:24:46 | 16 |
| 17 | 29 | Syrstad, Torleif | NOR | H21 | 04:24:47 | 17 |
| 18 | 17 | Lövgren, Johan | SWE | H21 | 04:24:48 | 18 |
| 19 | 4 | Ottosson, Markus | SWE | H21 | 04:24:55 | 19 |
| 20 | 18 | Hagtvedt Dammen, Kjetil | NOR | H35 | 04:26:48 | 20 |
Start group VL1
| Start group position | nr | name | nat | class | Race time | Race position |
| --- | --- | --- | --- | --- | --- | --- |
| 1 | 1300 | Nielsen, Jonas | NOR | H21 | 04:42:39 | 98 |
| 2 | 1386 | Lundmark, Jim | SWE | H35 | 04:42:40 | 99 |
| 3 | 1124 | Böthun, Gunnar Klemetsen | NOR | H35 | 04:43:52 | 107 |
| 4 | 1295 | Granlund, Jonas | FIN | H19-20 | 04:47:38 | 123 |
| 5 | 1103 | Olsson, Johan | SWE | H35 | 04:47:45 | 126 |
| 6 | 1436 | Mestvedthagen, Jakob | NOR | H21 | 04:47:47 | 129 |
| 7 | 1399 | Stengrundet, Tore | NOR | H35 | 04:48:47 | 136 |
| 8 | 1472 | Kühne, Andy | GER | H21 | 04:49:48 | 142 |
| 9 | 1167 | Lundborg, Emil | SWE | H35 | 04:50:43 | 146 |
| 10 | 1149 | Hanserud, Jakob | NOR | H21 | 04:51:42 | 152 |
| 11 | 1226 | Jansson, Ulf | SWE | H50 | 04:51:44 | 154 |
| 12 | 1187 | Tollefsen, Roy-Arne | NOR | H35 | 04:51:46 | 155 |
| 13 | 2137 | Gustavsson, Peter | SWE | H35 | 04:51:58 | 158 |
| 14 | 1010 | Larsson, Thommy | SWE | H50 | 04:52:04 | 160 |
| 15 | 1428 | Slagtern Fjellvåg, Asbjørn | NOR | H21 | 04:52:06 | 161 |
| 16 | 1309 | Gjerdbakken, Erik | NOR | H21 | 04:52:25 | 162 |
| 17 | 1021 | Carlsson, Samuel | SWE | H21 | 04:52:27 | 164 |
| 18 | 1202 | Myking, Jörgen Christoffer | NOR | H21 | 04:52:28 | 165 |
| 19 | 1393 | Carlzon, Mattias | SWE | H40 | 04:52:50 | 166 |
| 20 | 1058 | Lundqvist, Jesper | SWE | H21 | 04:52:51 | 167 |
Start group VL2
| Start group position | nr | name | nat | class | Race time | Race position |
| --- | --- | --- | --- | --- | --- | --- |
| 1 | 2090 | Hasli, Öyvind | NOR | H35 | 05:03:03 | 276 |
| 2 | 2625 | Söndmör, Henning | NOR | H40 | 05:07:12 | 319 |
| 3 | 2248 | Reiten, Pål | NOR | H45 | 05:07:14 | 320 |
| 4 | 2095 | Ekholm, Oskar | SWE | H35 | 05:08:32 | 337 |
| 5 | 2047 | Stensløkken, Jörgen | NOR | H35 | 05:08:38 | 338 |
| 6 | 2614 | Messel, Thor-Erik | NOR | H55 | 05:08:43 | 341 |
| 7 | 2311 | Lindberg, Mikael | SWE | H50 | 05:08:47 | 342 |
| 8 | 2266 | Seglsten, Ronald | NOR | H50 | 05:09:00 | 346 |
| 9 | 2190 | Sjöberg, Hans | SWE | H35 | 05:09:25 | 348 |
| 10 | 2241 | Undheim, Aslak Årsvoll | NOR | H21 | 05:09:27 | 349 |
| 11 | 2606 | Nilsson, Erik | SWE | H21 | 05:10:15 | 358 |
| 12 | 2124 | Heun, Alexander | GER | H21 | 05:10:34 | 367 |
| 13 | 2624 | Johansson, Alexander | SWE | H21 | 05:10:35 | 369 |
| 14 | 2037 | Solberg, Otto Andreas | NOR | H35 | 05:11:57 | 380 |
| 15 | 14563 | Forsberg, Isak | SWE | H21 | 05:12:02 | 385 |
| 16 | 2122 | Enders, Marcus | GER | H21 | 05:12:07 | 386 |
| 17 | 3237 | Holmestad, Ola | NOR | H35 | 05:12:08 | 387 |
| 18 | 2531 | Blom, Jonas | SWE | H50 | 05:12:31 | 392 |
| 19 | 2284 | Wille, Jon Camillo | NOR | H45 | 05:13:03 | 396 |
| 20 | 2163 | Yakupov, Aydar | RUS | H21 | 05:13:04 | 397 |
Start group VL3
| Start group position | nr | name | nat | class | Race time | Race position |
| --- | --- | --- | --- | --- | --- | --- |
| 1 | 3395 | Chibrikov, Aleksei | RUS | H35 | 05:13:41 | 402 |
| 2 | 3949 | Walther, Gustaf | SWE | H21 | 05:19:32 | 504 |
| 3 | 3880 | Grann, Stian Alexander | NOR | H21 | 05:20:56 | 525 |
| 4 | 3119 | Furuseth, Lars | NOR | H45 | 05:24:33 | 602 |
| 5 | 3502 | Wedum, Fridtjof | NOR | H21 | 05:25:08 | 613 |
| 6 | 3469 | Samuelsen, Eirik | NOR | H21 | 05:25:22 | 617 |
| 7 | 17372 | Adriansson, Sandra | SWE | D35 | 05:25:56 | 21 |
| 8 | 3208 | Källgren, Björn | SWE | H50 | 05:26:56 | 648 |
| 9 | 3428 | Westfält, Mattias | SWE | H45 | 05:28:29 | 684 |
| 10 | 3786 | Thomson, Henrik | SWE | H35 | 05:29:06 | 697 |
| 11 | 3176 | Haugaard, Øivind | NOR | H50 | 05:29:10 | 699 |
| 12 | 3960 | Hjerne, Olle | SWE | H45 | 05:29:26 | 703 |
| 13 | 3470 | Weaas, Henning | NOR | H40 | 05:29:59 | 717 |
| 14 | 3792 | Mortensen, Vegard | NOR | H40 | 05:30:21 | 722 |
| 15 | 3283 | Tvedt, Hans Petter | NOR | H35 | 05:30:29 | 729 |
| 16 | 3443 | Laegran, Snorre | NOR | H50 | 05:31:01 | 747 |
| 17 | 3568 | Hedman, Anders | SWE | H55 | 05:31:07 | 755 |
| 18 | 12848 | Hallmén, Tomas | SWE | H45 | 05:31:07 | 754 |
| 19 | 3560 | Johansson, Magnus | SWE | H45 | 05:31:09 | 757 |
| 20 | 3169 | Matses, Jacob | SWE | H21 | 05:31:14 | 762 |
Start group VL4
| Start group position | nr | name | nat | class | Race time | Race position |
| --- | --- | --- | --- | --- | --- | --- |
| 1 | 4945 | Bladh, Linus | SWE | H21 | 05:36:44 | 927 |
| 2 | 4634 | Torlén, Kalle | SWE | H21 | 05:42:54 | 1115 |
| 3 | 4043 | Maissen, Fabio | SUI | H21 | 05:44:19 | 1153 |
| 4 | 4012 | Pospisil, Miroslav | CZE | H55 | 05:45:14 | 1177 |
| 5 | 14823 | Golander, Anton | SWE | H21 | 05:47:11 | 1233 |
| 6 | 4850 | Granlund, Espen | NOR | H45 | 05:48:16 | 1274 |
| 7 | 4699 | Erwing, Victor | SWE | H21 | 05:48:35 | 1286 |
| 8 | 4051 | Skjörestad, Anstein | NOR | H35 | 05:49:19 | 1301 |
| 9 | 4435 | Living, Markus | SWE | H21 | 05:50:01 | 1329 |
| 10 | 13056 | Mattsson, Linus | SWE | H21 | 05:50:14 | 1337 |
| 11 | 4143 | Kristensen, Tomas | NOR | H45 | 05:51:20 | 1384 |
| 12 | 4415 | Landegren, Nils | SWE | H21 | 05:51:22 | 1386 |
| 13 | 4906 | Rasmussen, Jonathan Lawaetz | DEN | H21 | 05:51:36 | 1393 |
| 14 | 13202 | Vinje, Jakob | NOR | H21 | 05:51:47 | 1397 |
| 15 | 4426 | Söderström, Martin | SWE | H21 | 05:52:29 | 1415 |
| 16 | 4896 | Richter, Marek | CZE | H19-20 | 05:52:29 | 1415 |
| 17 | 4872 | Stensson Bohman, Oscar | SWE | H21 | 05:52:42 | 1428 |
| 18 | 4069 | Stenhols, Alexander | SWE | H21 | 05:52:54 | 1439 |
| 19 | 4697 | Wedman, Svante | SWE | H50 | 05:53:18 | 1453 |
| 20 | 4838 | Lindh, Atle | SWE | H21 | 05:53:59 | 1476 |
Start group VL5
| Start group position | nr | name | nat | class | Race time | Race position |
| --- | --- | --- | --- | --- | --- | --- |
| 1 | 5388 | Stordal, Espen | NOR | H35 | 05:54:04 | 1480 |
| 2 | 5262 | Alness Borg, Axel | SWE | H19-20 | 05:57:13 | 1600 |
| 3 | 5060 | Buzzi, Paolo | ITA | H50 | 06:06:29 | 1941 |
| 4 | 5728 | Robertsson, Magnus | SWE | H40 | 06:06:40 | 1948 |
| 5 | 5441 | Johansson, Richard | SWE | H21 | 06:07:23 | 1979 |
| 6 | 5780 | Heed, Fredrik | SWE | H40 | 06:07:43 | 2004 |
| 7 | 5684 | Ankarhamn, Albin | SWE | H19-20 | 06:08:37 | 2027 |
| 8 | 5440 | Stevenson, Michael | SWE | H21 | 06:10:27 | 2089 |
| 9 | 6279 | Stenström, Manne | SWE | H21 | 06:11:15 | 2116 |
| 10 | 11714 | Väänänen, Hannu | FIN | H60 | 06:11:17 | 2122 |
| 11 | 5795 | Nyman, Johan | SWE | H40 | 06:11:25 | 2130 |
| 12 | 17556 | Pospeshina, Lubov | SWE | D65 | 06:11:58 | 75 |
| 13 | 15821 | Ossiansson, Filip | SWE | H21 | 06:12:18 | 2169 |
| 14 | 5765 | Lindh, Mats | SWE | H55 | 06:13:18 | 2215 |
| 15 | 5454 | Nilsson, Jon | SWE | H21 | 06:13:53 | 2236 |
| 16 | 5976 | Westlund, Niklas | SWE | H21 | 06:13:57 | 2239 |
| 17 | 5523 | Wibom, Gustaf | SWE | H21 | 06:13:59 | 2240 |
| 18 | 5818 | Engström, Henrik | SWE | H35 | 06:14:14 | 2249 |
| 19 | 5866 | Bratvold, Tore | NOR | H45 | 06:14:35 | 2256 |
| 20 | 5954 | Puncochar, Petr | CZE | H35 | 06:15:09 | 2279 |
Start group VL6
| Start group position | nr | name | nat | class | Race time | Race position |
| --- | --- | --- | --- | --- | --- | --- |
| 1 | 6076 | Lundén, Rasmus | SWE | H21 | 05:52:11 | 1408 |
| 2 | 6971 | Machacek, Dusan | CZE | H50 | 06:00:13 | 1703 |
| 3 | 15077 | Grotnes, Christian | NOR | H50 | 06:06:04 | 1924 |
| 4 | 6910 | Andersson, Tommie | SWE | H35 | 06:06:13 | 1928 |
| 5 | 11471 | Jerve, Pål | NOR | H50 | 06:13:17 | 2214 |
| 6 | 6828 | Svensson, Magnus | SWE | H40 | 06:21:41 | 2553 |
| 7 | 6675 | Skogh, Carl-Johan | SWE | H45 | 06:22:11 | 2581 |
| 8 | 6667 | Björn, David | SWE | H21 | 06:22:24 | 2590 |
| 9 | 14559 | Gundesø, Runar | NOR | H55 | 06:24:56 | 2685 |
| 10 | 6574 | Syvertsen, Simon | NOR | H21 | 06:25:55 | 2728 |
| 11 | 7378 | Lööf, Richard | SWE | H21 | 06:26:16 | 2742 |
| 12 | 6841 | Thörnkvist, Victor | SWE | H19-20 | 06:27:16 | 2782 |
| 13 | 10522 | Hess, Albert Skagen | NOR | H21 | 06:29:18 | 2831 |
| 14 | 6838 | Klemetz, David | SWE | H40 | 06:30:05 | 2886 |
| 15 | 6584 | Niemi, Daniel | FIN | H21 | 06:30:32 | 2906 |
| 16 | 10945 | Dahlin, Petter | SWE | H35 | 06:31:01 | 2929 |
| 17 | 6075 | Cederhöjd, David | SWE | H21 | 06:32:24 | 2975 |
| 18 | 6985 | Persson, Thomas | SWE | H45 | 06:32:52 | 2991 |
| 19 | 6460 | Grant, Peter | SWE | H55 | 06:34:47 | 3049 |
| 20 | 6668 | Björn, Martin | SWE | H21 | 06:36:07 | 3112 |
Start group VL7
| Start group position | nr | name | nat | class | Race time | Race position |
| --- | --- | --- | --- | --- | --- | --- |
| 1 | 10303 | Baumgart, Björn | GER | H21 | 06:36:18 | 3118 |
| 2 | 12987 | Michelsen, Trond | NOR | H65 | 06:41:25 | 3294 |
| 3 | 11608 | Lindh, Tomas | SWE | H50 | 06:45:32 | 3456 |
| 4 | 7973 | Karja, Kaupo | EST | H21 | 06:45:46 | 3466 |
| 5 | 10501 | Övermo, Morten | NOR | H45 | 06:49:11 | 3589 |
| 6 | 7735 | Lyreborg, Johannes | SWE | H21 | 06:52:07 | 3698 |
| 7 | 7550 | Johansson, Jonas | SWE | H40 | 06:54:51 | 3797 |
| 8 | 14625 | Ahlstedt, Richard | SWE | H35 | 06:54:57 | 3804 |
| 9 | 7549 | Eriksson, Hans-Olov | SWE | H35 | 06:55:13 | 3818 |
| 10 | 7753 | Johansson, Axel | SWE | H19-20 | 06:55:14 | 3819 |
| 11 | 7662 | Woxlin, Erik | SWE | H21 | 06:56:40 | 3869 |
| 12 | 7824 | Pleiner, Mattias | SWE | H35 | 06:56:48 | 3878 |
| 13 | 15190 | Rebenstorf, Kasper | DEN | H21 | 06:57:22 | 3905 |
| 14 | 7989 | Carlander, Erik | SWE | H21 | 06:57:28 | 3908 |
| 15 | 10208 | Nurmio, Mats | FIN | H55 | 06:57:37 | 3918 |
| 16 | 17637 | Berglund, Cathrine | SWE | D21 | 06:58:17 | 167 |
| 17 | 7847 | Pleiner, Tomas | SWE | H45 | 06:58:46 | 3961 |
| 18 | 18838 | Hylander, Ida | SWE | D21 | 07:00:23 | 172 |
| 19 | 7795 | Lindelöf, Johannes | SWE | H21 | 07:00:50 | 4034 |
| 20 | 12988 | Eriksen, Jan | NOR | H55 | 07:01:28 | 4052 |
Start group VL8
| Start group position | nr | name | nat | class | Race time | Race position |
| --- | --- | --- | --- | --- | --- | --- |
| 1 | 8870 | Laugaland, Sven Ivar | NOR | H40 | 07:03:56 | 4148 |
| 2 | 8761 | Laugaland, Johan Mihle | NOR | H40 | 07:05:41 | 4209 |
| 3 | 13940 | Bengtsson, Johan | SWE | H40 | 07:08:11 | 4303 |
| 4 | 12229 | Holenmark, Per | SWE | H35 | 07:08:48 | 4316 |
| 5 | 8085 | Holmström, Mattias | SWE | H35 | 07:14:09 | 4510 |
| 6 | 8523 | Gustafsson, Philip | SWE | H21 | 07:18:05 | 4683 |
| 7 | 8693 | Bohman, Tobias | SWE | H35 | 07:19:13 | 4723 |
| 8 | 8558 | Larsen, Frode Klausholt | DEN | H21 | 07:19:33 | 4742 |
| 9 | 8730 | Bergset, Petter Inge | NOR | H50 | 07:19:51 | 4750 |
| 10 | 12176 | Fritz-Englund, Christofer | SWE | H21 | 07:21:41 | 4820 |
| 11 | 14690 | Evertsson, Klas | SWE | H50 | 07:22:25 | 4853 |
| 12 | 8895 | Wetterlund, Björn | SWE | H40 | 07:22:54 | 4879 |
| 13 | 8896 | Bylund, Göran | SWE | H55 | 07:26:35 | 5027 |
| 14 | 13453 | Lennartsson, Daniel | SWE | H21 | 07:26:43 | 5034 |
| 15 | 12731 | Marcusson, Johan | SWE | H40 | 07:28:19 | 5089 |
| 16 | 8429 | Nordstrand, Stefan | SWE | H45 | 07:28:33 | 5098 |
| 17 | 8800 | Lundin, Samuel | SWE | H45 | 07:29:31 | 5129 |
| 18 | 8561 | Svensson, Alexander | SWE | H21 | 07:31:23 | 5217 |
| 19 | 12800 | Rabe, Jonas | SWE | H40 | 07:32:37 | 5264 |
| 20 | 8937 | Hjort, Kristoffer | SWE | H35 | 07:33:45 | 5292 |
Start group VL9
| Start group position | nr | name | nat | class | Race time | Race position |
| --- | --- | --- | --- | --- | --- | --- |
| 1 | 9183 | Mjølnerød, Jens Erik | NOR | H55 | 07:33:03 | 5279 |
| 2 | 9213 | Andersson, Gustav | SWE | H21 | 07:46:52 | 5784 |
| 3 | 10107 | Johnsson, Fredrik | SWE | H35 | 07:48:14 | 5825 |
| 4 | 9628 | Magnusson, Patrik | SWE | H45 | 07:49:43 | 5894 |
| 5 | 9188 | Mohammar, Robert | SWE | H21 | 07:49:56 | 5902 |
| 6 | 9784 | Gosvig, Magnus | DEN | H21 | 07:50:14 | 5917 |
| 7 | 9821 | Thörn, Kristofer | SWE | H35 | 07:50:32 | 5928 |
| 8 | 9287 | Torild, Jan Erik | SWE | H40 | 07:52:07 | 5979 |
| 9 | 9005 | Liljengren, Björn | SWE | H35 | 07:52:37 | 6000 |
| 10 | 9182 | Severinsson, Christian | SWE | H35 | 07:55:00 | 6086 |
| 11 | 9700 | Larsson, Ludvig | SWE | H21 | 07:55:13 | 6097 |
| 12 | 9300 | Aarstad, Kjell | NOR | H60 | 07:56:20 | 6161 |
| 13 | 9228 | Engström, Tobias | SWE | H40 | 07:57:01 | 6182 |
| 14 | 9447 | Nord, Henrik | SWE | H21 | 07:58:10 | 6220 |
| 15 | 9657 | Nyberg, Per | SWE | H35 | 07:58:15 | 6222 |
| 16 | 9645 | Laine, Matti | SWE | H65 | 07:59:27 | 6273 |
| 17 | 9683 | Hagman, Erik | SWE | H50 | 08:01:49 | 6347 |
| 18 | 10231 | Hyvärinen, Mikko | FIN | H55 | 08:02:15 | 6356 |
| 19 | 10255 | Martin, Tobias | FIN | H21 | 08:03:59 | 6416 |
| 20 | 9509 | Lindegård, Ludvig | SWE | H21 | 08:04:03 | 6420 |
Start group VL10
| Start group position | nr | name | nat | class | Race time | Race position |
| --- | --- | --- | --- | --- | --- | --- |
| 1 | 11642 | Ambrazas, Svajunas | LTU | H50 | 06:10:59 | 2101 |
| 2 | 17472 | Gram, Sophie | DEN | D21 | 06:18:47 | 87 |
| 3 | 11193 | Nordström, Edvin | SWE | H19-20 | 06:52:06 | 3697 |
| 4 | 11756 | Pospelov, Andrej | RUS | H35 | 07:06:45 | 4245 |
| 5 | 19797 | Meland, Kari | NOR | D21 | 07:07:27 | 197 |
| 6 | 10576 | Jerome, Brzezicki | FRA | H40 | 07:07:49 | 4282 |
| 7 | 12060 | Öjeskog, Olle | SWE | H40 | 07:12:29 | 4446 |
| 8 | 14419 | Berge, Tore | NOR | H55 | 07:18:31 | 4699 |
| 9 | 12477 | Karlberg, Karl Johan | SWE | H40 | 07:29:59 | 5147 |
| 10 | 12053 | Levkov, Alexander | RUS | H21 | 07:30:25 | 5160 |
| 11 | 10636 | Nilsson, Mathias | SWE | H21 | 07:31:44 | 5241 |
| 12 | 15020 | Johansson, Ulf | SWE | H50 | 07:35:47 | 5368 |
| 13 | 11157 | Vit, Jakub | CZE | H21 | 07:36:09 | 5383 |
| 14 | 11543 | Jaussaud, Jeremie | FRA | H35 | 07:41:47 | 5610 |
| 15 | 11519 | Arefev, Sergei | RUS | H50 | 07:42:04 | 5616 |
| 16 | 14952 | Holm, Peter | SWE | H40 | 07:42:24 | 5635 |
| 17 | 14269 | Svensson, Johan | SWE | H21 | 07:42:29 | 5637 |
| 18 | 13464 | Lundqvist, Pär | SWE | H35 | 07:44:11 | 5705 |
| 19 | 11315 | Lindhe, Oskar | SWE | H21 | 07:47:04 | 5788 |
| 20 | 10641 | Bruhn, André | SWE | H21 | 07:48:42 | 5844 |
Citation
BibTeX citation:
@online{kainu2018,
  author = {Kainu, Markus},
  title = {Vasaloppet 2018: Start Group Rankings},
  date = {2018-03-08},
  url = {https://markuskainu.fi/posts/2018-03-08-vasaloppet-start-group-rankings},
  langid = {en}
}

For attribution, please cite this work as: